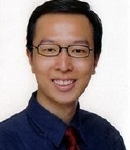 Alex Chow
Alex has been in the field of management research and organization development since 1999. He has previously held positions as a PR specialist, organization researcher, internal Human Resource consultant, and a regional training manager for multinational companies. At present, Alex is a specialist providing expertise in team development, cross-cultural awareness, innovation, and action learning projects in Asia.
Alex has been involved in action learning for the past 7 years in Asia and the US, working with participants from different cultures.  In Asia, his projects have been carried out in Singapore, China, Taiwan, South Korea and Japan. These projects have included organizations from different sectors : Finance, Semi-conductors, Automotives, Supply Chain Management, Marine Transportation, Food and Sports.
For the past 4 years, Alex has also been consulting and lecturing at the Singapore Institute of Management University on the subject of Action Learning to a diverse group of adult learners. To date, over 2,500 students have experienced the action learning process.
Alex has a passion for meeting diverse cultures and enabling people to their personal best at work and in life. He speaks English, Mandarin, Cantonese and basic Korean. He holds a Bachelor in Business Administration from Royal Melbourne Institute of Technology.