Which of your hidden talents and strengths wait for being activated now? We launched Emo Emercency for Biz to take a look behind the scenes with you. See you soon!  Patricia von Papstein and Bernhard Hauser
>>zum Angebot in deutscher Sprache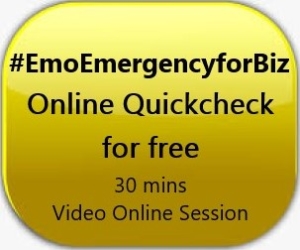 Why now?
The pulmonary disease pandemic called Covid 19 turns business life upside down. There is a coherence between disruptive upheavals in business and society, which as Covid-19 operate as game changers, and severe individual reactions on emotional and behavioural levels in the face of calamitous economic, social and personal changes.
Personal patterns of experiencing (shame, desperation, sense of failure but also pioneering spirit) and behaving (restlessness, sleep disturbances, aggressiveness and depression but also deep reflection and subsequent action) are symptoms which resonate with the global disruption caused by Corona. Being aware of this coherence opens the space for unconventional talent to set free the required power for change.
Each business personality is called to answer this challenge: how do I set a new course fot the business, resourcefully and not in the heat of the moment?